| Illness, Symptom, or Remedy Name | Category | Search |
| --- | --- | --- |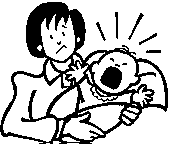 Homeopathic medicine-whether in topical ointment form, children's combination products, specific single remedy tablets or liquid-is a natural safe alternative for pregnancy, babies, toddlers, and children. Hyland's brand of homeopathic remedies are remembered by many a grandmother. These true and tried remedies are a must have for parents with young children. Reputable natural remedies for colic, teething, irritability, restlessness at bedtime, fevers, childhood diseases, first-aid treatment for scraps, buises, pain.

The KID'S KIT - BEST BUY!
This KIT contains 7 of the most used remedies by families of young children.
Includes generous 250 tablet bottles. 30X potency for safe and effective use.
An excellent booklet is with information for each remedy is included!

Below is listed each product included in the kit. You may double click on the
remedy name to purchase the remedy separately in 30X, 30C & 200C potency

ACONITE- use for sudden onset of illness, sudden fright or shock, first
signs of illness-the early stages. Indicated in fevers, cough, croup,
hoarseness, colic, childhood trauma, anxiety.
ARNICA- use for fast first aid relief of pain. Relieves pain and trauma
immediately when used right after injuries, scraps, blows, shock.
Helpful also in black eyes, sore muscles, bruises.
This remedy travels with our family in the car, to camps, on vacations.
BELLADONNA- use for fevers, redness and fever from headache, earache,
sunstroke. Belladonna should be in every home for childhood fevers.
BUMPS AND BRUISES OINTMENT is a mother's kiss in a convenient stick form.
CHAMOMILLA is my #1 remedy for the peevish, irritable baby or child.
Pain of teething, earaches, colic. Use this remedy for the child is
very complaining and vocal. Keynote is the baby who cries no matter
what you do to entertain them. Pain tolerance is low for this baby and
Chamomilla can be a real godsend for parents. Dr. Charles Hempel
calls Chamomilla the "catnip of homeopathy".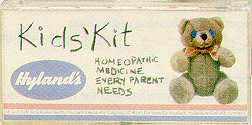 FERRUM PHOS is my #1 choice for inflammations and fevers. Ferrum Phos is a homeopathy Cell Salt,
our mineral that is used within the cells. Ferrum Phos is homeopathic iron and gets oxygen to the cells.
That makes this Cell Salt useful for infection, inflammation, fatigue from illness.
See our Cell Salt Category for more information on Cell Salts.
HEPAR SULPHUR is your sore throat remedy. Use for hoarseness, croupy coughs, colds, abscesses, acne.
This remedy help with skin eruptions, such as teen acne. Hepar Sulphur is well known for its ability to encourage
suppuration. Hepar Sulphur also acts upon the respiratory mucous membrane.
Indicated in cough that repeat til choking. Sensation of a clot of mucous or internal
swelling when swallowing. The sensation of something caught in the throat, with the
feeling of a splinter in the throat.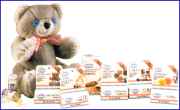 Important Children's Remedies and Products
BEDWETTING -Help for children suffering from bedwetting
TEETHING -Calm a peevish child, help with fever accompanying teething.
COLIC -Help for the baby with an immature digestive system. Relief for intestinal distress.
ARNICA - Most used First Aid remedy.
Relieves pain and trauma immediately if used right after injury
ACNE CLEAR -All natural, no side effects alternative to teen acne.
Includes Hepar Sulphur, Antimonium Tart, Canadensis, Selenium, Sepia, Silicea, Sulphur, Thuja.
BIOPLASMA - Contains 12 of the basic minerals or cell salts in our body.
Safe to use everyday for all ages.

Locate and Buy Products Beginner's Guide Privacy Policy Order Info Ship Info Educational Pages FAQ's
Site and Page Copyright © 2005. Site established 1997. Updated April 2015.
Please give proper credit to Kathryn Jones Homeopathic Specialist, DiHom, M. Ed. & Elixirs.com
To cite page: Jones, K. (2015). Homeopathy for Health. Retrieved from http://www.elixirs.com
About Us More on our company and Kathryn Jones Homeopathic Specialist
Back to Top of Kids Info Page