1 in 5 Americans between the ages of 6 and 74 develop an allergy to something and the numbers are growing (National Center for Health Statistics). Better Food USA in Better Nutrition May 1999, estimates 80% suffer from food sensitivities, where negative reactions from food ingestion can occur several hours to a day later.
Common symptoms of foods and ingredients often associated with allergic reaction/food sensitivity include:
Hives: shellfish, nuts, citrus fruits, tomatoes, strawberries, eggs, chocolate, beef, pork, mangoes, sulfites, food colors.
Eczema and dermatitis: eggs, citrus, tomatoes.
Migraines: cheese, chocolate, nuts, wheat, citrus, tomatoes, eggs, milk, nitrates (in smoked, dried meats), alcoholic beverages, MSG (be careful on this flavoring that is now disguised as spices, hydrolyzed yeast, etc. even in health foods).
Hayfever: milk, wheat, nuts, chocolate, food colorings, sulfites (watch for this preservative in deli and restaurant salads.
Congestion symptoms: corn, wheat, milk, soy (some also feel Caucasians tolerate soy less well than Asians).(Information by Lisa Turner in Better Nutrition May 1999.)
How can Homeopathy help? Homeopathy seeks to naturaly stimulate the body's natural defenses against allergy symptoms.
Homeopathic allergy remedies put the body in a position to react less and less to allergens.
Our top line of allergy specific remedies, include specifc allergens to gently, safely expose the individual to their specific weak areas.
This allows the natural defenses to properly adapt to the the allergen and no longer react to it adversely.
CHOOSING THE CORRECT BIO-ALLERS NATURAL ALLERGY MEDICINE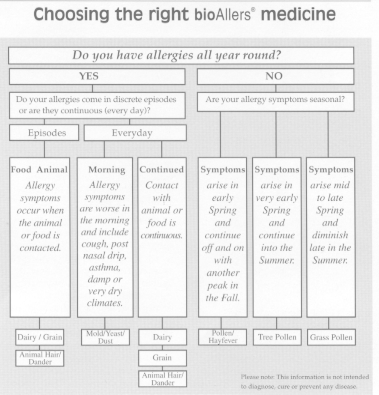 Homeopathic formulas are available for allergies to pollen, trees, grasses, mold, animals, grains, dairy. Specific allergens in 6X, 12X, or 30X are available for almost any allergy! Homeopathic allergens are available for most common food allergies-milk-wheat-corn-peanut butter-chocolate. Call to special order allergens not yet online.

North America tree pollen allergies generally run March to June.
Allergies to various grasses are worst May to October.
Weed allergies are worst August to first frost.

If you suffer from allergies ask yourself, "Do my allergies appear and worsen seasonally?"
"Do my symptoms start in the Spring and continue off and on into the Fall?"
If yes, then you are suffering from Hayfever and Pollen Allergies.
"Are my symptoms worse in the Spring?" If yes, then you suffer from Tree Pollen Allergies.


Our Tree Pollen Product provides wonderful relief throughout the blooming season.Helps strengthen resistance to allergens at the same time relieving the itchy, watery eyes and repiratory congestion, etc.
Natural homeopathics include Euphrasia and Allium for allergy symptoms in eyes. Includes specific allergens in 12X potency for Maple, Box Elder, Alder, Hickory, Ash, Cedar, Sweet Gum, Pine, Cottonwood, Oak, Willow, Elm.


"Do my symptoms start with the mowing of lawns and continue through Summer?"
If yes, then you suffer from Grass Pollen Allergies.
Grass Pollen product is a must for allergy relief, especially May to Oct in the U.S. Strengthen resistance to grass pollen allergy and reactions to blooming grass or new mown lawns. Our Grass Pollen remedy includes Allium sepa 6X, Arsenicum iodatum 6X, Euphrasia 6X, Sabadilla 6X for relieving symptoms of runny nose, sneezing, itchy watery eyes, respiratory congestion, hayfever. Includes specific homeopathic allergens in 12X potency for Cheat Grass, Fescue, Kentuchy Bluegrass, Rye, Johnson Grass, Wheat, Oat, Corn, Orchard Grass, Timothy Grass.
Blooming trees, and grass pollen from lawns and farms and open fields can cause stuffiness, asthma, burning eyes, headaches, etc. Use of pesticides intensify the problem of toxicity.

Summary of How Homeopathy Can Help With Allergies:

A) Use of homeopathic allergen remedies
Homeopathic allergen remedies help to desensitize the body's reactions to substances. The body begins to react less and less to allergens with each season. Specifc allergens gently, and safely, expose the individual to allergens to lessen sensitivity and strengthen weak areas. This allows the natural defenses to properly adapt to the allergen and no longer react to it adversely.

B) Use of homeopathic glandular support remedies
Fatigue, stress and allergies often go hand in hand and indicate overworked adrenal glands. John Tintera M.D. has said, "In more than 20 years of a busy practive (as an endocrinologist) with 1000's of patients, I've yet to work with an allergic patient whose troubles weren't basically due to poorly functioning adrenals. And who wasn't relieved when his adrenal glands were put in proper working order."

C) Remedies to support elimination organs
Help cleanse toxins from the body by drinking 6 glasses a day of pure unchlorinated water. BHI company has formulated a homeopathic product specifically to support elimination organs and the liver in detoxifying.
Click here for "Body Pure" and more information on how Body Pure is for symptoms due to environmental allergens, pollutants and toxins.

D) Constitutional remedies to bolster a system prone to allergies
For those with hereditary weakness towards allergies may find additional help with use of their constitutional remedy. An excellent book for the layperson with self questionnaires to determine your constitutional remedy is The Complete Guide to Homeopathy

E) Use of single and combination remedies targeting specific symptoms
Combination remedies specific for allergies are put out by Natra Bio as listed above.
Allergy and Breathing Relief Family Kit includes the new Sinus Relief Nasal Spray and 100 tablet bottles of Allergy, Asthma, and Sinus.
Allergy and Breathing Relief Family Kit

F) Homeopathic Cell Salts for basic support with minerals
Cell Salts help balance the body at the cellular level. Usually taken at 6X potency. Cell Salts are important foundation for the Cells. Consider Natrum Mur (homeopathic sodium chloride-salt) when there is indication of water imbalance in the body. Allergies often respond to a higher potency also of Natrum Mur. Kali Mur for excess mucous production. Kali Phos for supporting the adrenal gland, fatigue and stress. See our Cell Salt Category

CLICK HERE FOR PRODUCT DESCRIPTIONS WITH PICTURES IN THE ALLERGY CATEGORY